COPING WITH YOUR SYMPTOMS
Exercise
Exercise may seem unappealing when you have the joint pain and stiffness associated with AS, but when performed gently and frequently, it should help to improve your symptoms. Not exercising can lead to more fatigue and pain due to decreased joint motion, stiffness and muscle weakness.
A physiotherapist's role is to help you with your joints, muscles and movement. They should help you to create an exercise plan that can ease symptoms such as stiffness and pain. The exercise plan should include:
Stretching, strengthening and exercises to help your posture
Deep breathing
Exercises to move and stretch the different parts of your back and neck
Aerobic exercise (exercise that makes you breathe harder than normal, for example, walking, swimming and cycling)
Your physiotherapist may also recommend hydrotherapy, which combines the benefits of exercise and soothing warm water. It supports your weight while allowing your muscles to relax and eases the pain in your joints, helping you to exercise.
Help with everyday activities
If your symptoms make it hard for you to perform everyday activities, such as cooking, dressing, cleaning and doing your job, you can ask to be referred to an occupational therapist who can assess your needs and help you to cope with your symptoms.
An occupational therapist will work with you to overcome your daily struggles and achieve your personal goals. They will give you advice about equipment that might help and arrange reviews to make sure that the therapy is meeting your needs.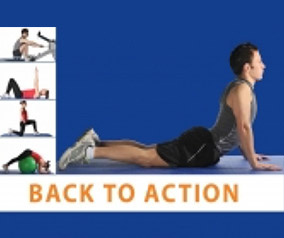 Back to Action
Back to Action is an exercise programme designed for people with AS covering mobility, cardiovascular, strength, flexibility and breathing exercises. You can use the programme in a gym or at home as part of your daily routine.
Download a free copy here
Tracking Symptoms
There is no easy way to measure the severity of your AS or how you're responding to treatment, so your doctor will have to rely on you to explain how you feel. A busy life can make it hard to remember how you've been. Keeping a diary can help, and there are tools available that offer a simple way to record your symptoms so you have them to hand for your next appointment:
Living with AS:
Paul's Story
Paul was diagnosed with AS approximately nine years ago. Listen to him explain the daily challenges he faces and his advice for other patients
Living with AS:
Poppy's Story
Poppy has been living with AS since her late teens. In this video, Poppy explains what living with AS is like day to day
Useful tools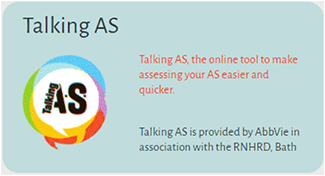 Talking AS:
A free online tool designed to make monitoring your disease quicker and easier. Talking AS is provided by AbbVie in association with the Royal National Hospital for Rheumatic Diseases, Bath.
Click here to view the tool
Please note that by clicking on external links you are leaving this tool and neither Novartis nor NASS are responsible for the content you find.