COPING WITH YOUR SYMPTOMS
This section explains NICE's recommendations for how AS should be managed and treated. You will find out which medicines are used and hear two personal experiences of managing the day-to-day challenges of living with AS, including treatment and managing pain.
Medicines
Early treatment of AS is important to relieve pain and reduce joint damage. Some medicines control the disease itself, while others ease the symptoms. Your healthcare team will find you the best treatments based on your symptoms and any other medical conditions that you may have.
There are a number of different medicines available to you, so if the medicine you try doesn't work, you should be offered a different one.
These are the different types of medicines for AS and how they work:
| | |
| --- | --- |
| Class of medicine | How these medicines help |
| Non-steroidal anti-inflammatory drugs (NSAIDs) | Reduces inflammation and relieves pain |
| Biologics | Slows down your immune system's attack on your joints and spine |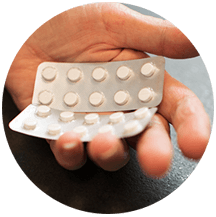 NSAIDs
If you have AS, you should be offered an NSAID as a starting point. If after two to four weeks you don't have enough pain relief, you should discuss trying a different NSAID with your GP or rheumatologist.
NSAIDs are not the right option for every patient. If at least two different types of NSAIDs haven't helped or if they cause problems such as with your stomach or another medical condition, your rheumatologist should discuss the next option in the treatment pathway, biologic medicines.
The first treatment step: NSAIDs
Hear Dr. Andrew Keat, consultant rheumatologist, explain the role of a rheumatologist in treating AS and what to expect from the first treatment step — NSAIDs. Poppy and Paul also explain their experiences taking NSAIDs
Biologics
A number different biologic medicines are approved by NICE to treat AS. Biologics are made up of genetically-engineered proteins from living organisms and are very large, complex molecules. They work by blocking aspects of the immune system to slow down the attack on your joints and spine. To learn more about biologics click on the button below to view the NASS Guide to Biologic Therapy.
The second treatment step: biologic therapy
Listen to a rheumatologist and Poppy and Paul explain more about biologic treatments